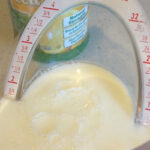 Print Recipe
Homemade Buttermilk
This is a super easy and quick way to make your own buttermilk. No need to run to the store - you likely have all you need.
Place the lemon juice OR vinegar in a measuring cup. Pour milk on top of the vinegar or lemon juice up to the 1 cup line. Stir gently.

Let sit for about 10 minutes or until the milk starts to look curdled. Use as needed.